Intrinsic Winter Indoor Tri Series
E3's Intrinsic Triathlon Series is a series of 4 indoor triathlon races which gradually take athletes into the race season in prime conditioning. Each race will take place at The Club at Oak Branch pool, starting in the pool, moving to E3's CompuTrainer Studio, and then finishing on the treadmills.

There will be 3 waves with 8 competitors in each wave. All athletes will receive series points for each race on an age-graded handicap system that allows for any age and gender to take top billing, and become the E3 InTRInsic Champion!
​

2 Race Waves
9:00am Wave

11:00am Wave


8 Spots for Each Wave


$30 Per Race


$100 All Four Races
Race #1- JANUARY 12th

500yd Swim, 10mi Bike, 2mi Run


Race #2- JANUARY 26th
750yd Swim, 15mi Bike, 3mi Run

Race #3- FEBRUARY 16th
1000yd Swim, 20mi Bike, 4mi Run

Race #4- MARCH 1st
"Escape From The Club"
1500yd Swim,

18mi Escape From Alcatraz Bike Course,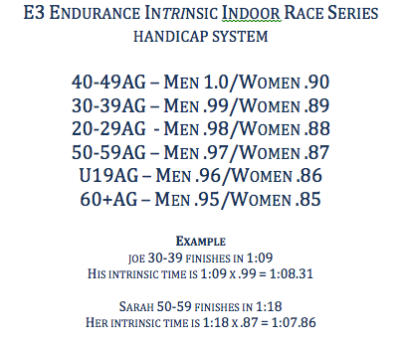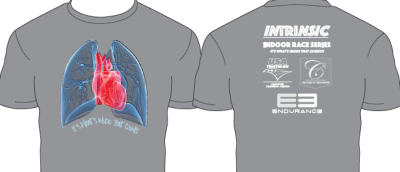 The 9:00 & 10:00am races will be the same sprint distances (500yd swim, 10mi bike, 2 mi run) for ALL FOUR RACES.

The 11:00 race will progressively increase throughout the series with the distances listed above.